Some useful links for participants
Traveling from Ljubljana airport to the City:
http://www.lju-airport.si/en/passengers-and-visitors/getting-here/bus-and-shuttle/
(try to avoid taxi, since they are prohibitively expensive)
Click on the map to enlarge it.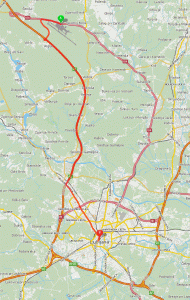 Airport (A) and the venue (B)
Traveling by car:
Buy a sticker for the highways:
http://www.dars.si/Dokumenti/Toll/Methods_of_payment/Vehicles_up_to_35_t/Vignette_308.aspx
When approaching Ljubljana and you come to the ring, look for "Ljubljana Center".
If you have navigation system, use the following address of Hotel Slon: Slovenska cesta 34, Ljubljana, Slovenia. Hotel Slon is only about 50m from the venue. Click on the maps to enlarge them. Note that you cannot drive on Copova or Nazorjeva street. It's pedestrian zone. The nearest car park is on the Congress square. Some more info about parking is given at the bottom of this page.


The venue (A)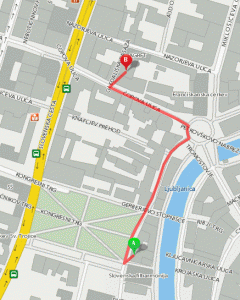 The nearest parking on Congress square (A) and the venue (B).
Traveling by train/bus:
Train and bus stations are together (Trg OF 6, 1000 Ljubljana) and they are about 1.4km from the venue. On the picture below, bus & train station is marked by A and the Venue by letter B (click on the picture to enlarge it):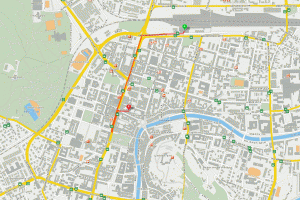 Bus and train station (A) and the venue (B)
Around MGL (Venue) (click on the map):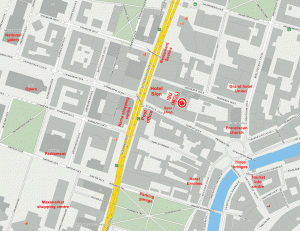 General information
General information about "Getting to Ljubljana" is available here:
http://www.visitljubljana.com/en/meetings/key-facts/accessibility
The Ljubljana Airport
The Ljubljana Jože Pučnik Airport(also known as the Brnik Airport – code LJU) is situated 26 km or 16 miles North of Ljubljana.
You can get direct flights to Ljubljana from Amsterdam, Barcelona, Belgrade, Birmingham, Brussels, Budapest, Copenhagen, Dublin, Frankfurt, Istanbul, London, Manchester, Moscow, Munich, Ohrid, Paris, Podgorica, Prague, Pristina, Rome, Sarajevo, Skopje, Tirana, Vienna, Warsaw and Zurich.
Other nearest airports include Trieste (Italy), Graz (Austria), Klagenfurt (Austria), Vienna (Austria), and Zagreb (Croatia).
Some of the most often used airline connections are:
Border formalities
Slovenia is a Schengen member country. There are no border controls at borders to Austria, Italy and Hungary. However, there is a border control at the border to Croatia. Border formalities are minimal and correspond to European standards. Citizens of European Union countries, Switzerland and Croatia may cross the border using a valid personal identity document only.
Please consult the Ministry of Foreign Affairs for the details regarding the visas.
From Ljubljana Jože Pučnik Airport
The airport is located at 25 km from the city centre.
Timetables and prices from the airport

Shuttle bus services to any address in Ljubljana
Price: about 9 EUR
Taxi: price to the city center around 35-40 EUR.
Website: http://airporttaxi.si/En/
Bus (to the central railway station, 45 minutes)
Price: 4.10 EUR
Timetable: link
For nearby airports: Trieste, Venice, Klagenfurt please contct: mice@kompas.si
The Congress
The Congress will be held in the centre of Ljubljana in the building of MGL (City Theatre; Mestno Gledališče Ljubljansko). The address is Čopova 14, the entrance is from the Gledališka pasaža (Theatre passage), linking Čopova and Nazorjeva ulica (street).
More detailed maps can be found HERE.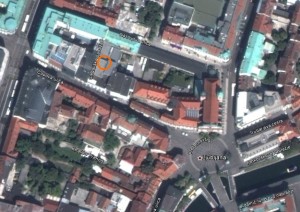 Parking in the centre of Ljubljana is relatively expensive (between 1 EUR and 2.4 EUR per hour) in parking houses.You can park on the streets on "blue zones" and pay at parking machines. It will cost you between 1.2 EUR per hour (in the city centre) and 0.6 EUR per hour (away from the centre) during the day (usually between 7h-19h, at some places 6h-22h). Night tariff is usually 1.8 EUR (in some places it is for free). Some prices (in Slovene) can be get HERE [pon. means Monday, petek is Friday, ned. means Sunday, "Dnevna tariffa" is Day tariff, "Nocna tarifa" is Night tariff, "Dnevna cena z DDV" is Price per hour during the day incl. VAT, "Nocna cena z DDV" is Price per entire night incl. VAT]. The location of some parking houses and parking facilities is shown here.
Few hotels are offering their own parking. Among them is Hotel Park, but the parking cannot be reserved in advance. In Hotel Slon the whole-day parking costs 14 EUR. Similar prices can be expected from other hotels or some parking houses. If you have some more questions about parking facilities, you can contact hotels.
Another solition is to use P+R options (Park + Ride). There are three possibilities: P+R Dolgi most [Google translate] (1.2 EUR per day), P+R Center Stozice [Google translate] (2.4 EUR per day) and P+R Chengdujska [Google translate] (2.4 EUR per day). P+R options have the following limitations: Parking is valid for the current day. If you want to prolong your parking, you'll have to come to the parking before midnight, take the car out and re-park after the midnight each day. P+R options include local bus transport.You will need electronic ticket Urbana for using local transport.