Congress Gala Dinner, Monday, August 26th, 2013 on Ljubljana castle.
Price: 50 EUR
Includes: dinner with drink package and funicular return ticket.
The following official excursions are provided at the ISU 2013 Congress:
Ljubljana. Tuesday, August 20th, 2013
Main sights of the Old city. After the earthquake of 1895, a lot of buildings in Ljubljana were left in a state that required them to be demolished and rebuilt from scratch. The result was a blend of old Baroque and new Art Nouveau styles, with finishing touches added by Slovenia's most renowned architect, Jože Plečnik, in the second quarter of the 20th century. The tour will then lead, by foot or funicular train, to the Ljubljana Castle, that perched on the top of a hill, enjoys an all-encompassing view of the city and its surroundings.
Price: 10,00 EUR per person
Includes: guide, funicular return ticket
Predjama Castle & Postojna Cave. Wednesday, August 21th, 2013
Middle Age builders of Predjama Castle integrated it with a natural cave system behind it, gaining a hidden supply route to baffle all its besiegers and in the process laying foundations for one of the most scenic castles in Slovenia.
The first 'official' visitor to the dripstone paradise of Postojna Cave was archduke Ferdinand,later the Emperor of Austria, in 1819. 34 million more followed in his footsteps over the next two centuries. An exclusive visit (where photographing will be allowed), after the usual opening hours, will be organised for the members of ISU congress.
Price: 46 EUR
Includes: Guide, bus transfer, visit of Predjama castle and Postojna Cave
Bled, Vintgar and Radovljica. Thursday, August 22th, 2013
Vintgar gorge is a 1.6 kilometres of rapids, pools, and waterfalls of river Radovna, battering its way through a narrow, 50 – 100 metres high gap in the hills. In a summer heat it provides a welcome refreshment to its visitors, who will be able to follow the river course thanks to a system of wooden bridges, first constructed in 1893.
Slovenia's jewel, Lake Bled, is a fairy-tale place with its small wooded island with a church, that will be visited by a pletna boat.
A castle on a high cliff overlooks the lake. Needless to say, the view is astounding. The castle, property of Bishops of Brixen since 1004, houses a small museum, a restaurant, and a couple of workshops.
The tour will finish with a dinner in the historic centre of the nearby town of Radovljica.
Price: 67,00 EUR
Includes: Guide, bus transfer, pletna boat ride, entrance to church, Bled Castle, Vintgar gorge, Entrance to Lectar museum, dinner and souvenir.
Velika planina. Friday, August 23th, 2013
A cable car will take us to Velika planina, The Great Alp, or Pasturage, as its name would translate to, one of the biggest settlements of this kind in Europe, providing summer grazing for cattle. Shepherds' cottages, covered with pine shingles, developed a unique oval architecture. Nowadays, many of them serve as weekend retreats for city dwellers. During a walk to the chapel of the Saint Mary of the Snows, we'll enjoy wide views over the valley on one side, and high alpine peaks on the other. The tour will end with a typical local cuisine lunch.
PRICE: 46,00 EUR
Includes: Guide, bus transfer, cable car and chair lift, lunch.
Bistra and Kuren. Saturday, August 24th, 2013
Visiting Postojna Cave, some might wonder, where did all the water go? They'll find their answer in Bistra, one of the sources of river Ljubljanica, taking a short-cut under the hills. Built on the site of a Roman shrine dedicated to Neptune, a 13th century Carthusian monastery now houses the museum of Slovenian technical heritage, including a collection dedicated to hunt and fishing, revealing all the richness of Slovenia's fauna.
The tour will end with a dinner at Kuren.
PRICE: 30,00 EUR
Includes: Guide, bus transfer, lunch
Škofja Loka. Sunday, August 25th, 2013
Nacetova hiša in Puštal is an example of an 18th century farmer's house, with original furniture and two operational smoking rooms, as a traditional Carniolan snack will attempt to prove.
Nearby city of Škofja Loka, Bishop's Meadow, belonged to the Bishops of Freising until the start of the 19th century. Its Middle Age old town is very well preserved, with a linden, or lime tree, one of the symbols of Slovenia, growing in the middle of the main square. There are few things in life more pleasant than a cold beer in its shade on a hot summer day.
Afterwards, a lunch awaits us at a farm tourism in the hills above the city.
PRICE: 40,00 EUR
Includes: Guide, bus transfer, Nace's House with snack, lunch
Seaside. Monday, August 26th, 2013
We will take the entire day to travel to the seaside, and enjoy the Mediterranean in all its richness of sun (hopefully), water, salt, food, and wine. A ride along the coast will start in Koper, Slovenia's main port. We'll partake in some wine tasting, a seafood lunch, and we'll visit Piran, an old Venetian city, with all the architecture and looks that go with the pedigree. Its salt pans, an example of traditional salt extraction process, are still fully functional, part of their income deriving from Sečovlje Salina Landscape Park. If you're not afraid of a longer walk, a guided tour is highly rewarding.
PRICE: 70,00 EUR per person
Includes: Guide, bus transfer, wine tasting, boat ride along the coast, fish lunch, visit of the Salt pans.
Venice. Tuesday, August 27th, 2013
Venice needs no introduction. This add-on to the Congress was organised mainly with overseas attendants in mind. It would be a shame to come so close, from so far, and not to have visited it.
A vaporetto (water bus) will take you from Tronchetto along the canals to St. Mark's square, a visit of the Murano glass factory will be arranged, and then you'll have free time for yourselves – there is so much to see in Venice, that the choice is best left to the individual.
PRICE: 100,00 EUR per person
Includes: Guide, bus transfer, ecological TAX ( mandatory), vaporetto
Minimum of 25 pax
Map of Slovenia with marked trips (click on the map to get enlarged version):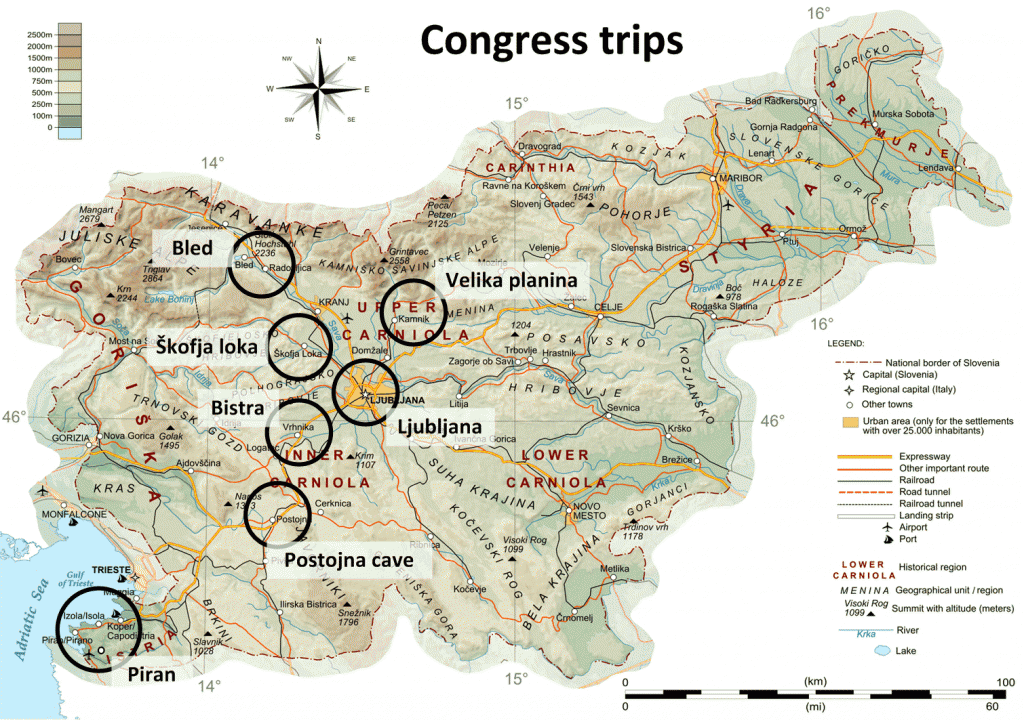 Some more information about the chosen trips and some other interesting destinations can be found here:
Some parallel excursions will be organized for a limited number of participants with a taste for adventure. Contact Petra Tolja if you are interested in the trips. They might include: