| | | | |
| --- | --- | --- | --- |
| O stereoskopskem društvu / About stereoscopic society | | | |
Written by Damir
Tuesday, 06 January 2009 14:22
Stereoskopsko društvo Ljubljana deluje že 13 let in se ukvarja s stereoskopsko (3D) fotografijo in filmi. Društvo ima na voljo opremo za prikaz in zajem 3D slik in filmov (projektorje z veliko svetilnostjo ločljivosti 1400x1050 in 1920x1200, pare fotoaparatov, pare video kamer Sony HC94 in HC1, srebrna platna do velikosti 4x5m, itd.). Leta 2006 smo prešli na digitalni zajem in prikazovanje slik in filmov.
Stereoskopsko društvo Ljubljana se s svojimi 3D serijami redno predstavlja na Institutu Jožef Stefan v Ljubljani, gostujemo po drugih krajih v Sloveniji in zamejstvu, ne manjkamo pa tudi na kongresih v tujini. Stereoskopsko društvo Ljubljana je včlanjeno v ISU (International Stereoscopic Union) - mednarodno stereoskopsko zvezo, ki prireja svetovne 3D kongrese vsaki dve leti in združuje vse nacionalne zveze ter društva vseh držav sveta (primer je nemška zveza 3D društev, imenovana DGS, ki združuje 16 nemških klubov in vsako leto prireja odzivne 3D kongrese). Leta 2013 bo Društvo gostilo svetovni kongres v Sloveniji.

Vsakdo, ki bi se želel ukvarjati s stereoskopijo je dobrodošel v Društvu. Stereoskopsko društvo Ljubljana ima sestanke vsak prvi petek v mesecu ob 18 uri na Institutu Jožef Stefan na Jamovi cesti 39 (Odsek E2, Stavba J, 2. nadstropje; telefon: 01/4773-732, e-pošta: This e-mail address is being protected from spambots. You need JavaScript enabled to view it ). Za obiskovanje sestankov in ogled stereoskopskih (3D) serij ni potrebno postati član Društva.
Stereoscopic society of Ljubljana is active for 13 years. It's main activity is promotion of stereoscopic photography and films. The society has equipment for projection (among other digital projectors 1400x1050, 1920x1200, two stereo analog projectors, several silver screens up to 4x5m, etc.), for taking pictures and video material (among others a pair of Sony HC1 and DCR-HC94), hardware for synchronization (3D LANC Master, Ste-Fra LANC, etc.) and software.
The stereoscopic society organizes regular monthly meetings at J. Stefan Institute in Ljubljana (each first Monday). The Society has regular (several times per year) one-day tours at different places in Slovenia and abroad. The most important event is a regular show (one time per year) which takes place at J. Stefan Institute in Ljubljana.
The society is a member of International Stereoscopic Union (ISU) which organizes regular biennal ISU Congress. In 2013, the Congress will be organised in Slovenia.
Everybody who likes stereoscopy is welcome. The regular meetings are each first Friday at 18h at J. Stefan Institute, Jamova 39, Ljubljana (Building J, Department of Systems and Control, the second floor; Phone: +386-1-4773-732, e-mail: This e-mail address is being protected from spambots. You need JavaScript enabled to view it ). Attendance at club meetings is not limited to members only.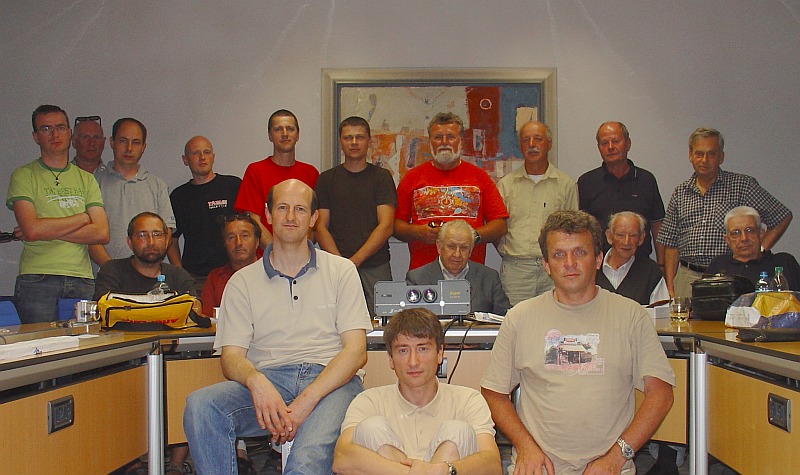 Člani Društva (2007); klikni za X sliko.
The members (2007); click the picture for X view.

Last Updated on Sunday, 25 September 2011 10:31